Planning a new line of jewelry can feel like spinning plates, and careful preparation is key to a successful launch. Every jewelry manufacturer works a little bit differently, but for the most part, each one follows the same steps: planning and design, sample creation, and production. Each step involves different jobs, tools, and materials, and the timing of each phase can also vary based on the specific jewelry design. Gaining an overall understanding of the jewelry production process can help you estimate your timelines and plan accordingly. Let's take a look at an overview of the wholesale jewelry production timeline.
Planning: 5 Days (or More)
The planning stage can take as little as five days to complete. But every brand has different needs, schedules, and goals, so it's completely up to you and your team to develop the timeframe that works for you. Here are the key steps in the planning phase of the wholesale jewelry production process:
Research
There's no time limit for research! Research takes as long as it takes — pace yourself and leave no stone unturned as you dive into the broader jewelry market during this phase. First, you'll want to conduct some research about the jewelry market. You might look into:
What kind of jewelry is currently selling?
Who is your competition and what are they up to?
What are the current trends in the market?
Where are there gaps in the market that present opportunities for your brand?
Next, you'll want to conduct some internal research about your brand. You might ask yourself:
What differentiates your brand from the competition?
What's missing from your product line so far?
What have you done well in the past?
Which of your pieces have succeeded most and why?
What's your production budget and how does it fit with your target demographic's spending habits?
Leave yourself plenty of time for this step — it's a fundamental one.
Sketches: 3 Days
Developing sketches of your design ensures that everything looks right and usually takes about three days. The manufacturer's design team will map out a first iteration of your piece using your desired materials, all your research from the previous step, and your overall design vision. Sketches are meant to be the first indicator of what your new piece will look like. Designers sometimes illustrate sketches by hand, but they often use computer applications to get a more detailed idea of the piece.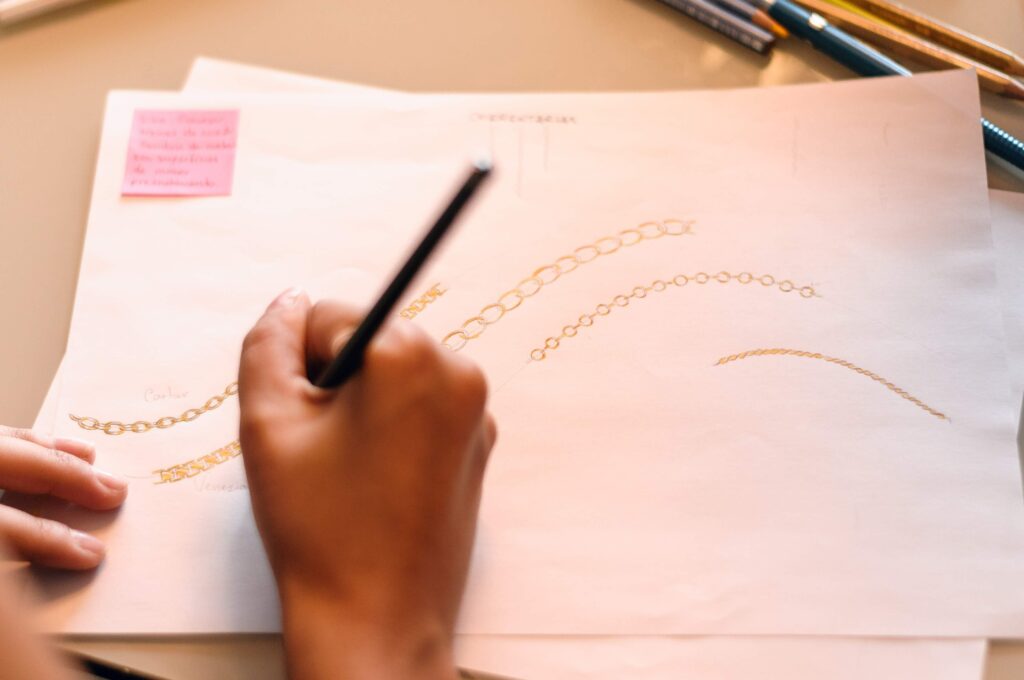 CAD development: 48 hours
The next step is to create a Computer-Aided Design (CAD) rendering of your jewelry. Your manufacturer's design team will create a three-dimensional model that allows you to get the full picture of your jewelry before it's created. This technology allows granularity; you can see what the piece will look like from all angles and fine-tune details like final material choices and specs like sizing. This step should only take about 48 hours.
Sample Jewelry Creation: 2 weeks
The next phase is sample creation. This is an opportunity to see a prototype of your new jewelry piece in real life. Creating a sample is an important step because it provides your team with an opportunity to inspect and test what you've designed before you commit to producing a large quantity. A sample will take about two weeks to produce. If there are any last minute adjustments to be made, this is your chance to communicate with the manufacturer and clarify anything you want to change or that might have been overlooked or lost in translation.
Jewelry Production: 4-6 weeks
Now is the most exciting part! In this final step, your wholesale jewelry goes into production. Production can take anywhere from four to six weeks, depending on the quantity of your order, the materials required, and level of detail specified in the design. Here are the basic steps of wholesale jewelry production:
Model: Based on the CAD rendering, jewelers will make a 3D wax mold of the design.
Casting: Jewelers fill the mold with molten metal. The metal hardens to the shape of the wax mold as it cools, creating the base of the jewelry.
Stone setting: Next, the jewelers will set and arrange any gemstones according to the design specifications.
Enameling and other details: Additional details such as enameling, engraving, or metal plating, are introduced at the end of the production process.
Polishing: Last but not least, your piece will be polished to perfection so its shine is ready for jewelry shelves.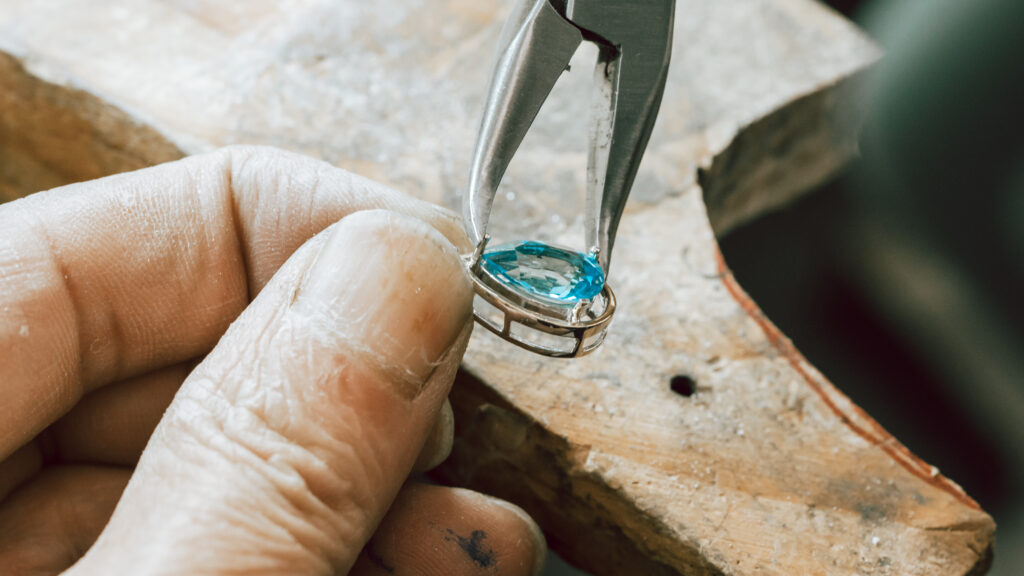 Shipping
And finally, the last step in the process is shipping. Shipping times will always vary depending on where you're based, where your manufacturer is based, and your preferred shipping method. There are all kinds of variables with shipping that can change the timeframe between completed production and receiving your order, especially if you work internationally. Clearing customs can also add time onto shipping, so be sure to take these factors into account when mapping out your production timeline. 

Now that you have an overview of the jewelry production timeline, it's time to begin planning your next project. MJJ Brilliant can help you produce your next beautiful jewelry design or collection. With over 40 years of expertise in the jewelry industry, we work with top designers and retailers across the globe. Our expert jewelers produce over four million gorgeous pieces every year with incredible precision and craftsmanship, bringing imagined designs to life for brands of all sizes. Contact us today to get started on your next jewelry piece.