Do you have a dream design you want to bring to life and sell to customers? While getting your designs made can sound daunting, the process is much easier than you might think. Working with the right custom jewelry manufacturer makes it simple to bring your designs to market.
How Does Jewelry Manufacturing Work?
Wholesale jewelry manufacturers adapt their process depending on the type of jewelry being produced. While the details vary with different types of designs, there's an overall arc to producing jewelry.
The Jewelry Manufacturing Process
The specifics of your idea dictate the stages of the process your jewelry manufacturer will follow. Some are omitted based on quantity or material; for example, gold plating might replace enameling, or your ring might be a simple band that doesn't require stone setting.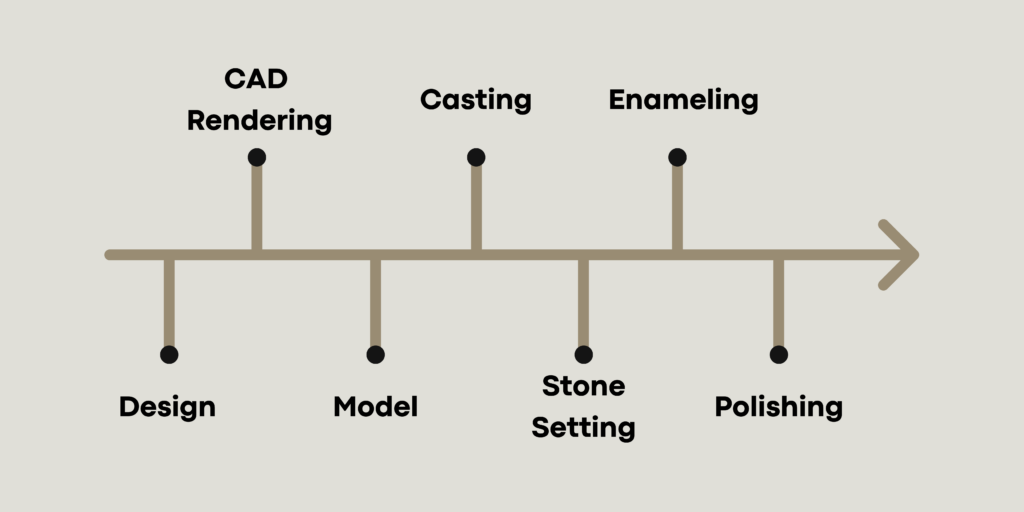 Design: The process begins with an idea: the designer will provide a sketch of the piece of jewelry. This step gets everyone, from the design team to the jeweler, on the same page. This is where the details are decided: what materials will be needed, how big the piece will be, what colors will be used, and more.
CAD Renderings: Next, the jeweler will fabricate the design with a rendering, a visualization in 2D created with computer generated materials and lighting. Then, the design will be made into a computer-aided design (CAD), created in a 3D design software that can then be revised or printed out. This is not meant to be the final product, but rather a sample of the jewelry item to make sure the design matches the original intention.
Model: Once the CAD rendering is confirmed, we can move onto the prototype that the jewelers will use to fabricate the piece. The jeweler will make a wax model to work off of. With a wax model, they can begin to build the piece of jewelry.
Casting: The next step is to cast the jewelry. The jeweler will fill the wax models with molten metal to adhere to the design.
Stone Setting: If your jewelry includes any gems, this is the stage where the jeweler arranges and securely places the stones in whatever setting is designated: prong, bezel, pave, etc.
Enameling or Other Details: The next step is to provide the finishing details. If your jewelry includes enamel, the jeweler will adhere the enamel to the metal at this point. This step could also include elements like metal plating or engraving based on the design.
Polishing: Finally, the jeweler will give your piece a final touch of TLC. Polishing is an essential part of the process to ensure that all residue from the manufacturing process is removed and that your jewelry gets off to a shiny start.
How to Get My Jewelry Designs Manufactured
Now that you know the steps of the jewelry manufacturing process, you're ready to find out how to get started for yourself.
Find a manufacturer you trust
First and foremost, look for a manufacturer that you trust. Ask questions! How long has the manufacturer been in business? What have they produced? Can you see their products, and do you appreciate their craftsmanship quality? Finding a jewelry manufacturer with expert jewelers on staff is critical, because this is where detail and precision come into play. Choose a manufacturer like MJJ Brilliant that has customer reviews, years of experience, and expert staff.
Talk to an expert about your design
Once you've chosen a manufacturer, start a dialogue with an expert. This is when you'll determine what materials to use and where to source them, what the timeline will look like, and what the pricing estimate for this design will be.
Source your materials
Not all manufacturers source their own materials, in which case, you'll have to do the legwork to find them. A helpful hint: if you choose a jewelry manufacturer that sources their own stones and metals, like MJJ Brilliant, you can skip this step — they'll provide it for you.
Send your designs and get started
Send your designs to your chosen manufacturer to get started. With the project in your trusted manufacturer's hands, they will begin the process outlined above while you patiently (or very eagerly) await the results.
Receive your jewelry
This is the best part: seeing your finished design in real life. There's nothing more rewarding than holding your own imagined jewelry in your hands.
Sell and ship your products
Now that you've got jewelry, what will you do with it? There are plenty of resources available to pursue selling and shipping your products. Whatever you decide, congratulations — you're now a jewelry designer!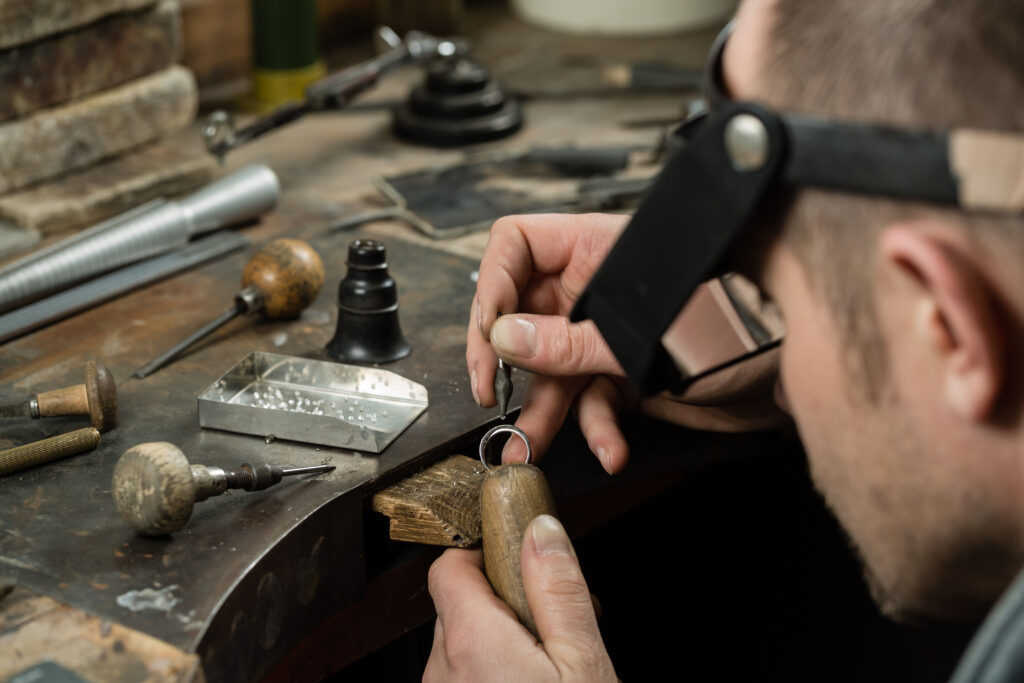 How Much Does Custom Jewelry Manufacturing Cost?
The cost for jewelry manufacturing will differ depending on lots of variables: the amount you'd like produced, the materials you want to use, and where you're located are just some of the factors involved in pricing. It's best to begin with a quote from a manufacturer and talk through your needs. One often overlooked factor in cost is duty tax; to find duty-free custom jewelry manufacturing, search for domestic or local companies.
Are you ready to begin your journey with a jewelry manufacturer? MJJ Brilliant can make your jewelry dreams become a reality. MJJ Brilliant has been manufacturing jewelry for over 40 years. With 700 of the most qualified jewelers, we produce four million beautiful products each year. From sourcing to production to shipping, our process is thorough and finely tuned. MJJ Brilliant is based in Long Island City, NY and domestic orders won't include a duty tax. Our wholesale manufacturing company has partnered with top US and global retailers to bring designs to life and into stores.

Interested in finding a jewelry manufacturer? Let us help you bring your design to life! Contact us today to get started.