As a designer, creating a cohesive jewelry collection is essential for building a strong brand. A cohesive collection not only helps establish your brand identity but also makes it easier for customers to understand and connect with your brand. They'll know what to expect from you and, over time, will be able to recognize your aesthetic in an instant. In this article, we'll explore how to create a cohesive jewelry collection and build a strong brand aesthetic.
Step 1: Define Your Brand Identity
Before you start designing your jewelry collection, get back to basics by using your brand identity as a launchpad for your vision. Revisit your brand values, the guiding principles that define your brand's purpose and mission, to get grounded. Then consider your target audience; identify the group of people who are most likely to buy your jewelry and understand what their priorities are. Finally, hone in on your brand aesthetic, the visual style and tone that represents your brand.
To define your brand identity, ask yourself the following questions:
What are my brand values, and are there any that I haven't conveyed?
Who is my target audience, and what kinds of jewelry are they looking for?
What visual style and emotional tone do I want to convey?
Once you have a clear understanding of your brand identity, you can use it as a guide for designing your jewelry collection.
Step 2: Establish Your Design Elements
When creating a cohesive jewelry collection, it's important to establish design principles that tie it all together. Consider including design elements like:
Materials: Using materials as a throughline can help create a cohesive look. For example, if you primarily use gold and silver, your collection will have a clear metallic theme. If your vision is more whimsical, use brightly colored enamel, and if your style leans more toward the ethereal, use natural materials like gemstones, wood, or leather.
Color: You can also use color to create cohesion. Consider using a limited color palette or a range of shades from the same color family to mold a memorable aesthetic that draws all your pieces together.
Shape: The shape of your jewelry can create consistency too. Primarily using geometric shapes will give your collection a cohesive modern feel, and while raw, organic shapes, like naturally occurring gemstones will give your collection a more natural feel.
Texture: Or trying playing with textures to draw your connection together. Hammered metal, for instance, creates a specific bohemian look, whereas sleek, crisp lines create a modern and edgy feel.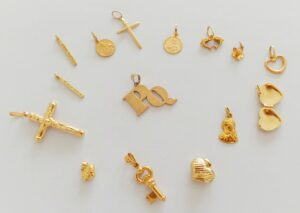 Step 3: Design Your Jewelry Collection
Once you have established your brand identity and selected your design elements, it's time to start designing your jewelry collection. Consider how each piece will incorporate your brand identity and design elements, and how it will fit into the overall collection to contribute to the overall aesthetic.
When designing your collection, aim for a balance of variety and cohesion. You want each piece to be unique and interesting, but also fit into the overall aesthetic of the collection. Experiment with different combinations of your design elements to create new and interesting looks.
Step 4: Name Your Collection
Naming your jewelry collection is an important part of building your brand. A strong, memorable title will help your collection stand out and make it easier for customers to remember and connect with it.
When naming your collection, consider the following:
Does the name reflect the overall aesthetic of the collection?
Is the name memorable and easy to pronounce?
Does the name fit with your brand identity and values?
Step 5: Create a Lookbook
A lookbook is a visual representation of your jewelry collection. It's a great way to showcase your designs and help customers visualize how your jewelry will look when they wear it. Your lookbook should include a variety of high-quality images showcasing each piece in your collection, as well as detailed product descriptions that include the piece's backstory and inspirations.
When creating your lookbook, consider the following:
Use a consistent style and tone throughout the lookbook.
Include images of each piece from multiple angles.
Include information about the materials and inspiration behind each piece.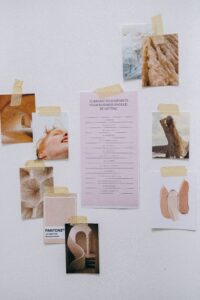 Step 6: Launch Your Collection
Once you have designed your collection and created a lookbook, it's time to launch your collection. Tell the world about your collection by announcing it on your website, social media, and even at in-person events. Make sure to promote your collection widely and communicate what makes it unique and special.
When launching your collection, consider the following:
Offer special promotions or discounts to encourage customers to make a purchase.
Partner with other fashion brands or retail stores to host in-person launch events where you can showcase your collection and connect with customers.
Create content celebrating your new collection and share it on social media, in blog posts, or through influencers.
Step 7: Consistently Evolve Your Collection
Building a cohesive jewelry collection is an ongoing process. As you create new designs, make sure to consider how they fit into your overall brand aesthetic and design elements. It's important to consistently evolve your collection to keep it fresh and interesting for your customers.
When evolving your collection, consider the following:
Take customer feedback into account when designing new pieces. Pay attention to user-generated content about your jewelry to understand how it's being talked about.
Experiment with new design elements while still maintaining a consistent brand aesthetic. Pepper in some of your more exploratory pieces to your tried and true collections to test out new ideas without starting over completely.
Continuously evaluate your collection and make adjustments as needed.
Creating a cohesive jewelry collection is essential for building a strong brand identity and establishing a unique aesthetic. Partnering with an experienced and established manufacturer can also help you to define and narrow in on your brand aesthetic. MJJ Brilliant works with all different types of jewelry businesses to help them expand their brands and develop new collections. Contact us today to see how MJJ Brilliant can help you reach your goals as a designer and support you in creating your cohesive branded collection.