For centuries, wearing jewelry has been a way to express personal style, represent a romantic relationship, and even tell stories. That's why it makes sense that designers have been using jewelry as a way to inspire and motivate wearers with meaningful messages and symbols baked in. Let's explore how designers are telling their own stories through their inspirational jewelry and how you can incorporate meaningful narratives into your own collections.
Symbolism and Meaning
Designers can use visual symbolism to create pieces that are more than just pretty accessories. For example, the infinity symbol represents eternity and the interconnectedness of everything, while the lotus flower represents purity and enlightenment. These symbols can be worn to declare personal values and aspirations, or even serve as a personal reminder. Visual symbols often represent something transcendent and spiritual, and many cultures use spiritual jewelry to denote their faith.
When considering which symbols to use in your designs, think about what means the most to you. Create collections centered around symbols that represent your brand's values, such as love, strength, or creativity. By doing so, you can authentically connect with your customers on a deeper level and create pieces that are more than just decorative accessories.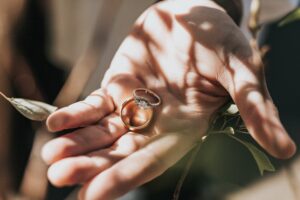 Personal Stories
Individual designers can also use jewelry as a way to tell their personal stories. For example, jewelry designer Jennifer Meyer created a collection inspired by her grandmother, featuring pieces with words like "love you" and "mom." These pieces are not only beautiful, but they also communicate the designer's personal history in a form that any customer can relate to.
Think about the ways you can share personal stories through your jewelry collections; create pieces inspired by your family, friends, or even your customers. By sharing the personal stories behind each piece, you'll invite your audience to form deeper connections with your products and your brand and encourage them to imbue their jewelry with stories of their own.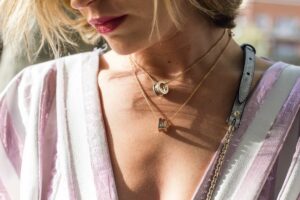 Environmental and Social Causes
These days, many designers are using their jewelry to raise awareness about environmental and social causes. For example, Article 22 creates jewelry made from bomb parts and bullet casings that they melt down in order to spread awareness about the dangers of unexploded mines in Laos. Some brands take a more philanthropic approach; Catbird creates pieces that funnel funds to causes like the ACLU and Doctors Without Borders through the brand's Giving Fund.
You can use your brand's jewelry to support causes you care about. Create collections that raise awareness about issues that are important to your team or integral to your brand story, and consider donating a portion of your profits to related charities. You'll be creating meaningful jewelry and leaving a positive impact at the same time. Putting your values front and center in this way also helps carve out a specific niche for your brand in the crowded jewelry industry.
Inspirational Quotes
Designers also use jewelry to inspire and motivate wearers with inspirational quotes. For example, MantraBand creates pieces emblazoned with motivating phrases like "be brave" and "live with intention." These pieces serve as reminders for wearers to stay focused on their goals and values.
Turn to your own brand's identity and values to brainstorm quotes that stir the spirit. What kinds of messages will inspire, ignore, and resonate with your customers? Design collections with phrases that represent different reminders or aspirations to help your customers spark deeper connections with your brand and learn to rely on you when they need a morale boost.
Using Significant Materials
Another way designers tell stories through their jewelry is by using materials with significance. For example, Alighieri uses recycled metals to represent the imperfect journey of life, while designer Pamela Love incorporates precious stones with healing properties, such as moonstone for intuition and labradorite for transformation. By using materials with meaning, designers can create pieces that resonate with wearers on a deeper level.
Consider which materials resonate with your brand; how do they embody your values and take your commitments further? If you're passionate about sustainable jewelry for a healthier planet, use recycled metals or lab-created gemstones in your designs. These choices help you stand apart from the competition while also creating a more cohesive brand identity your customers will remember and appreciate.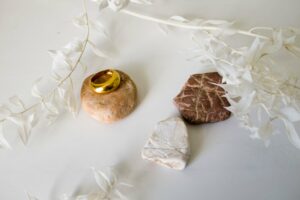 Creating inspirational jewelry pieces that are more than just decorative accessories will help your jewelry brand connect with customers on a deeper level. If you're ready to tell your story through your creations, MJJ Brilliant is here to help. Contact us today to learn how to turn your design ideas into inspirational jewelry.