Lab-grown diamonds are making a splash in the jewelry industry. While natural diamonds have steadily become the standard for engagement rings in the last century, they remain expensive; not everyone who wants to buy or wear a diamond ring can afford one. A lab-grown diamond is a sparkly alternative that comes at a fraction of the cost, with the bonus of being much better for the environment. Let's explore what lab-grown diamonds are, how they're made, and the benefits of using them in your jewelry.
Lab-Grown Diamonds vs. Natural Diamonds
The main difference between lab-grown diamonds and naturally occurring diamonds is their growth process; lab-grown diamonds are created by humans in a controlled laboratory environment, whereas natural diamonds grow naturally in the earth without any human intervention. Otherwise, these two types of diamonds are virtually identical; they have the same chemical composition, the same physical properties, and the same sparkling luster. You can't tell natural and lab-grown diamonds apart with the naked eye.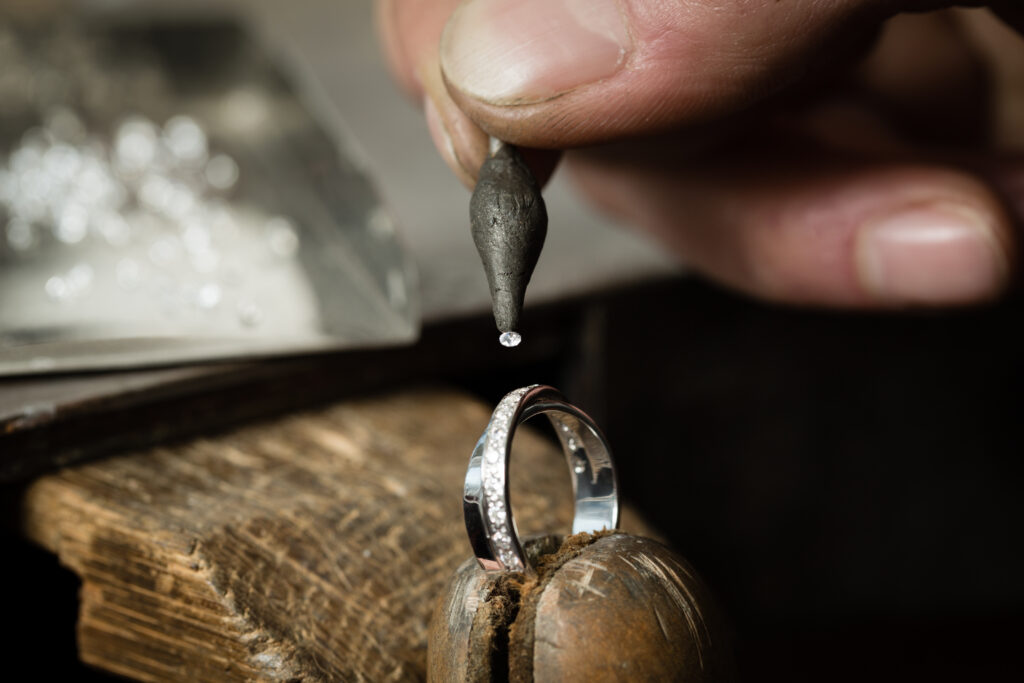 The Process of Creating Lab-Grown Diamonds
There are two main methods of creating lab-grown diamonds: High Pressure, High Temperature (HPHT) and Chemical Vapor Deposition (CVD). Here's how each method works:
High Pressure, High Temperature (HPHT)
The HPHT method of creating a diamond mimics the conditions in which diamonds naturally grow. A scientist will place a diamond seed, essentially a tiny diamond, inside of a highly pressurized (about 870,000 pounds per square inch) and very hot (up to 1600°C) chamber. Then they will place a carbon source like graphite in the chamber, and when they crank the heat, the carbon will crystallize around the diamond seed to grow a new diamond. This process can take a few days to a few weeks depending on the size of the diamond.
Chemical Vapor Deposition (CVD)
The CVD method uses lower temperatures and lower pressure than the HPHT method. It still starts by placing a diamond seed inside a controlled chamber, but with the CVD method, a scientist introduces a carbon source to the chamber in gas form instead of solid form. Methane is a popular choice; the process uses a microwave beam to break down the methane gas into carbon particles that adhere to the diamond seed and grow to form a diamond. The CVD method takes about three to four weeks to complete.
Benefits of Using Lab-Grown Diamonds in Your Jewelry
While natural diamonds have caché, rarity, and a history of romance, there are so many benefits to using lab-grown diamonds in your jewelry. Here are just a few:
Affordability
The low cost of lab-grown diamonds will help you reach a wider audience. This means you can offer your jewelry to a demographic that wants to purchase diamonds but can't spend thousands of dollars on a single stone. It also benefits your business by decreasing upfront sourcing costs and increasing your profit margin; with lab-grown diamonds, you can spend less on higher quality materials.
Sustainability
Mining for diamonds creates a negative impact on the planet; it depletes our natural resources and the process generates carbon emissions that contribute to global warming. There are so many reasons why making your brand more sustainable is a good idea: it helps our planet, it speaks to the thoughtfulness and responsibility of your business practices, and many modern consumers are concerned about sustainability. Using lab-grown diamonds in your jewelry will show your customers that you care about both your products and the planet.
Quality
The quality of a diamond is determined by four factors: cut, clarity, color, and carat (in other words, their shape, their transparency, their hue, and their size). Lab-grown diamonds have the same brilliance, sparkle, and shine as natural diamonds, and you can even get higher quality diamonds for less money if they're lab-grown instead of mined. A natural diamond with high clarity or carat is likely to be more expensive, but you can find the same quality for much less with a lab-grown diamond.
The hardness of a gemstone determines its level of durability. Lab-grown diamonds have the same chemical composition as natural diamonds, and natural diamonds are the hardest mineral. This means that both natural diamonds and lab-grown diamonds are very difficult to scratch, unlike other diamond alternatives like cubic zirconia, which imitates the appearance of a diamond but is a much lower quality material.
Supply
One of the reasons that natural diamonds are so expensive is because they are so rare. Natural diamonds' scarcity makes them expensive and hard to find, but lab-grown diamonds can be created on-demand so they're readily available whenever you need them.
Lab-grown diamonds are a great alternative to natural diamonds because they can help you increase your customer base and improve your brand reputation. MJJ Brilliant is proud to offer our clients and partners the opportunity to design jewelry using the finest lab-grown diamonds on the market. Ready to produce your next line of lab-grown diamond jewelry? Contact us today to start the journey.