The jewelry industry is crowded — in today's competitive market, brands need to explore innovative ways to stand out and reach their target audience. One powerful strategy is to establish brand collaborations and partnerships with influencers. Partnerships provide a platform to showcase your jewelry designs to a wider audience and offer an opportunity to gain insights from other industries — after all, a rising tide lifts all boats. In this guide, we'll discuss the benefits of influencer partnerships and brand collaborations, and provide step-by-step tips on how to achieve the right partnerships for your jewelry brand. Let's get started!
The Power of Influencer Partnerships
In every industry, influencer partnerships are changing the way businesses market to their audiences, engage with consumers, and understand the needs of their communities. Influencer partnerships can have a huge impact on your jewelry brand's growth and visibility. Here's how:
Expanded reach: Partnering with influencers allows you to connect with their dedicated followers and expand your brand's reach to a relevant, engaged audience. By collaborating with an influencer who is admired for their style, you're sure to reach a new segment of people who will appreciate the aesthetic of your jewelry pieces.
Authenticity and credibility: When an influencer posts about your brand, their endorsement adds credibility and authenticity through social proof. This helps build trust among their followers; when an influencer loves a product, chances are their followers will want to try it, too.
Creative storytelling: Influencers are creative and artistic, and their online content can be more engaging than traditional advertising campaigns. Content creators often embody a more personal style of marketing because they use their platforms to create compelling posts that resonate with their audience in a natural and organic way.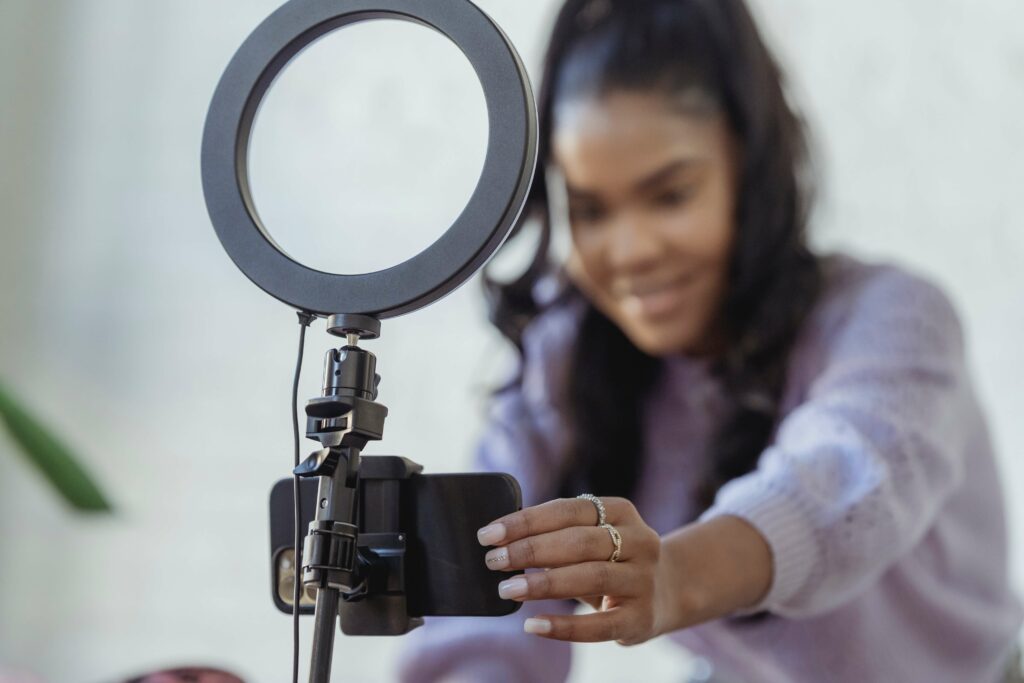 Leveraging Brand Collaborations
Collaborating with other brands, especially those outside the jewelry industry, can be an unexpected game changer for your brand. Here are the key benefits of brand collaborations:
Cross promotion: Partnering with complementary brands opens up opportunities for cross promotion, allowing both brands in the partnership to access new customer segments and drive mutual growth.
Shared expertise: Collaborating with brands from different industries allows you to tap into their specific expertise, which can help you to create innovative and exciting joint campaigns.
Increased brand perception: A successful collaboration can strengthen brand perception among your audience. Associating your company with well-established and respected brands helps elevate your overall brand equity, or the perceived value of your brand from the perspective of consumers. Finding the Right Partnerships
Identifying and approaching the right partners (whether they're brands or influencers) requires careful consideration. When looking for a new potential partner, be sure to follow these steps to ensure successful collaborations:
Define Your Objectives
As a brand, clearly outline your goals for the partnership. What do you hope to achieve? Determine whether you're hoping to increase brand awareness, access a new target audience, or enhance your brand perception. This will help you strategize in your search for the right partner and formulate a pitch when you find the right one. For example, if your goal is to reach a new target audience, looking for a partner with similar values and a different demographic can be beneficial.
Know Your Target Audience
Look for partners whose values, aesthetics, and style align with your brand and your audience. Identify the demographic characteristics and common tendencies of your target audience and use this information to help you search for like-minded partners. For example, if your audience is a sustainability-focused Gen Z crowd, look for partners that share the same environmentally conscious values.
Evaluate Partner Reach and Engagement
Do your research. Once you've identified a potential partner, assess their reach, engagement rates, and audience demographics. It's more than how many followers they have (although that's an important piece of the puzzle, too). Look for partners who have an engaged and loyal following rather than simply focusing on the number. An engaged audience will repost content, actively participate in discussions, and follow posted advice about which products and services to use. If a potential partner has ever given away promo codes for another product, for example, ask about their metrics so you can gauge how thoroughly they activated their audience.
Build Relationships
Great partnerships are born out of authentic and genuine connections. Reach out to potential partners with a personalized approach — establishing a real connection and showing off your understanding of their brand and their audience will increase the likelihood of a successful partnership.
Collaborate on Strategy
Once you've found the right partner, collaborate on campaign strategies and objectives. Align your visions, goals, and expectations to ensure a cohesive and effective partnership — one that makes sense and pays off for both parties.
Track and Evaluate Results
Measure the success of your partnership using key performance indicators (KPIs) like website traffic, social media engagement, brand sentiment, and, of course, sales results. Use these insights to refine your future partnership strategies and learn about what works and doesn't work for your respective audiences.

Brand collaborations and partnerships with influencers can be a powerful tool to grow your jewelry brand. With the right approach and execution, these partnerships can lead to long-term brand growth and success in the competitive jewelry industry. Another important factor that can contribute to your brand's success is your manufacturing partner. The MJJ Brilliant team has over four decades of experience crafting the meticulous jewelry that your customers (and your partners) will love. Contact us today to get started with your next collection.