Jewelry conventions are a great resource for learning about current industry trends, networking with professional colleagues, selling merchandise, or ordering materials. Attending jewelry trade shows can help you become more familiar with the industry's cutting edge tools and leading players, and ultimately it can help you grow your brand. If you're interested in learning more about how to prepare for trade shows, which ones to attend, and the best ways to make use of your time, read on.
What to Expect at a Jewelry Convention
Attending a jewelry trade show gives you an opportunity to investigate every area of the industry. Whether your goal is to shop for new materials, find a repair provider, or learn about the newest seasonal trends, you'll have access to thousands of buyers, retailers, and designers. In addition to the networking and business opportunities, these events get a lot of coverage from bloggers, journalists, and social media influencers. There are also plenty of educational opportunities; many conventions host panel discussions, workshops, and breakout sessions to engage attendees in trending jewelry industry topics.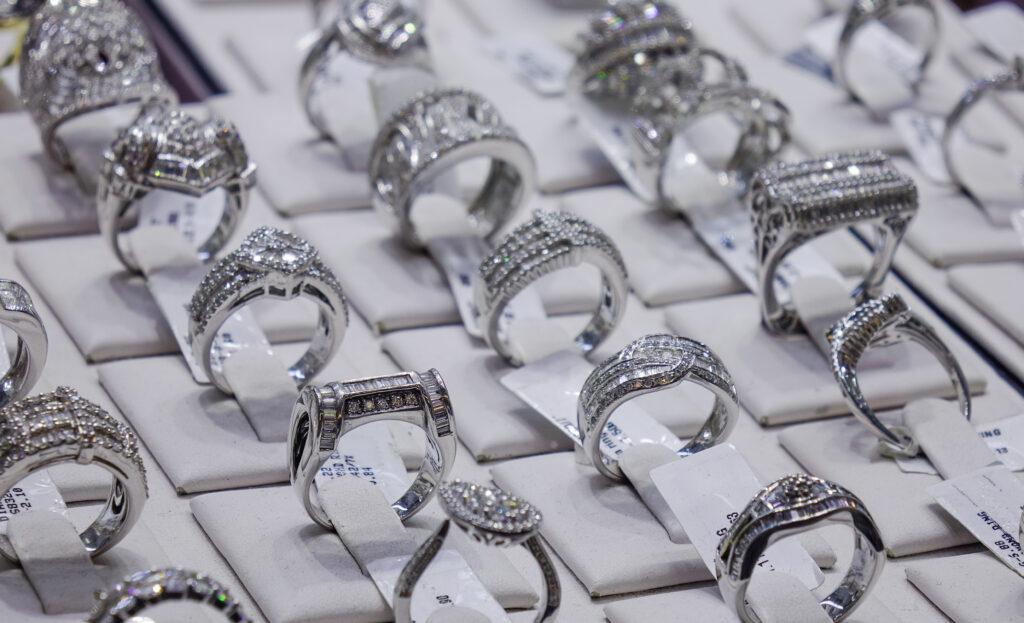 How to Prepare to Attend a Jewelry Convention
When traveling to a jewelry show, it's best to prepare as much as possible. Let's talk about the best ways to explore a convention and make the most of your time on the trade show floor.
Bring a Journal
Attending a trade show can feel like a blur. In the span of just a few days you'll meet so many new people, see all kinds of jewelry and tech tools, and be hard-pressed to remember the details of every brand, piece, and professional you encounter. One of the best ways to keep everything organized (and to remember it all later) is to carry a notebook with you. Whether you use a pen to physically jot down notes to yourself or type out highlights in your favorite smartphone notes app, taking a break now and then to recall what stands out can be really helpful once you get back to the office.
Bring Business Cards
We understand that most business information and professional details can be found online these days, but business cards still go a long way when it comes to trade show networking. When you're in the chaotic, exciting environment of a convention, taking the time to write down someone's full contact information is inconvenient and inefficient. Get one letter wrong or fail to capture enough detail, and it may be impossible to find that person later. Bringing along business cards can help you make connections quickly and easily, and you can still make them modern! Feature a QR code that links to your website or LinkedIn profile to digitally and efficiently share your updated information.
Take Photos
It's also helpful to take photos you can reference later and share with anyone on your team who didn't make it to the trade show. Use your camera or smartphone to take photos of the exhibits, products, tools, or brands you want to remember later. This is even quicker than jotting down notes, and it's a more effective way to capture visual details like up-close shots of individual pieces of jewelry, for example. Looking back on your photos will likely help you to keep the context fresh as well; if there's a logo of the brand present, if you can see someone you had a meaningful conversation with, or if certain location details help trigger your memory, you'll be able to remember a fuller picture of your experience even after you leave the convention.
Popular Jewelry Trade Shows
There are all kinds of jewelry conventions around the world every year. From Bangkok to Vincenza to Miami, people come from all over the globe to learn more about the industry, connect with vendors and buyers, and to share their jewelry collections. While most conventions aim to educate, inspire, and provide networking opportunities, every trade show is different. Regardless of which you attend, you're bound to have a valuable experience with new insights and exciting opportunities. Here are some excellent examples of major jewelry industry trade shows coming up in 2023:
Attending a jewelry convention is a helpful way to expand your network and grow your brand. Looking for another way to develop your jewelry brand on your own schedule? Make MJJ Brilliant your manufacturing partner. With over 40 years of experience and over four million pieces produced each year, we're a proven partner with an established track record of helping jewelry and watch brands fulfill their potential. We also maintain ongoing partnerships with several top global jewelry retailers, and can help you get your products on competitive shelves. Contact us today to learn more about what a partnership with MJJ Brilliant can do for your brand.