Diamonds have long been the go-to gem for jewelry designers, and with good reason — they're versatile, they're elegant, and they radiate luxury. However, in recent years, there's been a surge in interest in alternative gemstones that offer unique colors, properties, and increased affordability. In this article, we'll introduce you to the world of diamond alternatives and provide tips on incorporating interesting gemstones into stunning and distinctive jewelry collections your customers will love. Let's dive in!
A Quick Introduction to Gemstone Meanings
Gemstones have held symbolic meanings throughout history and across different cultures. For example, sapphires are often associated with nobility, amethysts represent peace, and rubies are symbols of passion. Using gemstones to invoke emotions can add another layer of meaning to your jewelry collection, so it's a good idea to tap into these qualities to inspire your next designs. For example, create New Year's Eve jewelry featuring opal to symbolize new beginnings, or launch an emerald collection at the start of spring to mirror nature's green season.
Colorful Considerations for Diamond Alternatives
In lieu of traditional diamonds, here are some colorful options to consider for your next jewelry collection:
Emerald
Emeralds, with their vibrant, lively green hues, have captivated jewelry enthusiasts for centuries. Known as the birthstone for May, emeralds are a fantastic alternative to diamonds. Their rich and bold color makes them a great stone for statement jewelry. They are made from a mineral called beryl and typically rank between 7.5-8 on the Mohs Hardness Scale. These beautiful gems have been associated with the spring season, truth, and good health. Cleopatra loved them — we bet your customers will, too.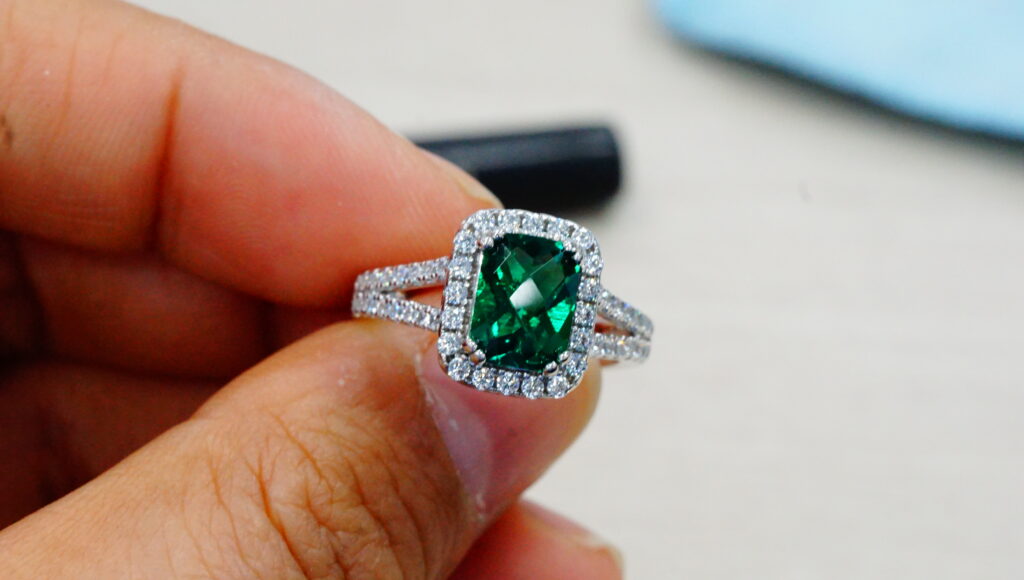 Sapphire
Sapphires are often associated with their traditional deep blue color, but they actually come in a range of captivating hues, including pink, yellow, orange, and even clear colorless versions. This versatility allows designers to experiment with various shades and create unique jewelry pieces while still staying in the sapphire family. Sapphires have a high rating of 9 on the Mohs Hardness scale and are made from the mineral corundum. These gorgeous gems have been long associated with nobility and romance — Prince (now King) Charles famously gave Princess Diana an iconic sapphire engagement ring, inspired by a sapphire brooch worn by Queen Victoria.
Ruby
Rubies, with their glowing, fiery, red color, have long been regarded as a symbol of passion and love. They make a stunning alternative to diamonds, especially in statement rings or pendants. Like sapphire, rubies come from the mineral corundum, and have the same Mohs Hardness rating of 9, making them a smart and durable choice for jewelry. Rubies are the traditional fortieth wedding anniversary gift and they're also the birthstone for July. Pairing rubies with rose gold settings further enhances their warm and captivating appeal.
Aquamarine
For jewelry designers seeking a gemstone that exudes tranquility, aquamarine is an excellent choice. With its soothing light bluish green color reminiscent of the ocean (its namesake, in fact), aquamarine adds a touch of serenity to any jewelry piece; the light colored gemstone pairs really well with white gold or silver settings. Like emeralds, aquamarine is made from the mineral beryl and has a Mohs Hardness rating of 7.5-8. This gem is the birthstone for March and it's often associated with protection and wit.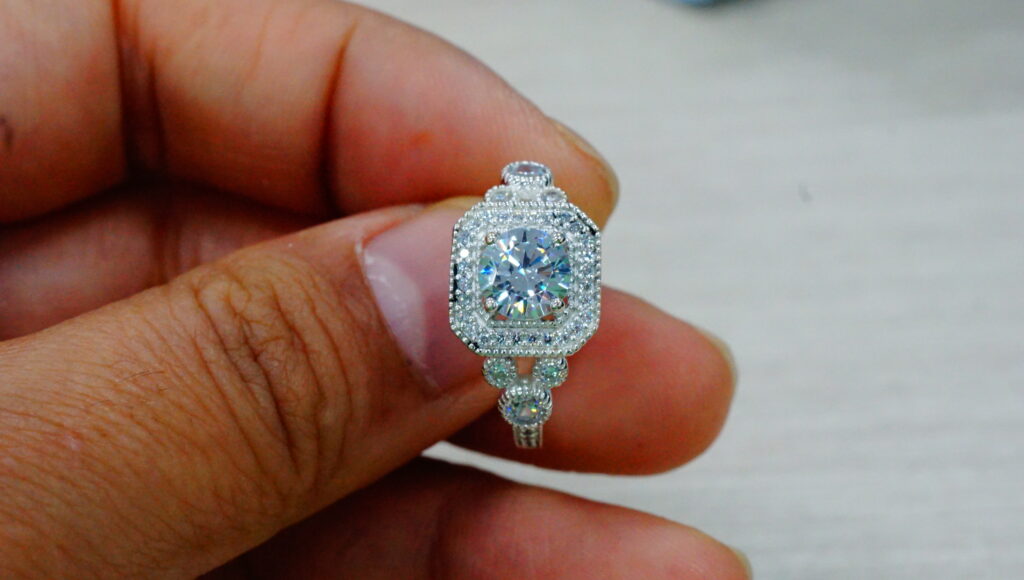 Amethyst
Amethyst, the birthstone for February, is a gemstone that exudes elegance and serenity. With its rich purple hues ranging from pale lavender to deep violet, you can use amethyst to create striking jewelry designs. This gem is made from the mineral quartz and has a Mohs Hardness rating of 7. Amethyst historically has been thought to keep people clear-headed. You can incorporate amethyst in cocktail rings, pendants, or chandelier earrings to make a bold yet calm statement.
Morganite
Morganite's pink hue has gained popularity as an alternative gemstone for engagement rings. Its soft salmon color evokes a sense of romance and tenderness, making it perfect for delicate, graceful designs. Morganite is made of the mineral beryl and has a Mohs Hardness rating of 9. You can pair morganite with rose gold or platinum settings to create a contemporary and romantic look.
Opal
Opals are renowned for their stunning play-of-color, an optical phenomenon that creates a mesmerizing kaleidoscope of hues when the stone is exposed to light. Use opals as center stones in earrings or bracelets to create captivating and conversation-starting pieces. You can also pair opals with other colored gemstones for a vibrant and lively composition. Opals come from the mineral hydrated silica, which means that they contain a good amount of water that contributes to their softness. They're often associated with luck and new beginnings, and they're the birthstone for October. 
While they are visually stunning, opals have a Mohs hardness rating of between 5-6.5, which makes them a bit more susceptible to damage than the other gemstones on this list. This doesn't make them unsuitable for jewelry, but they might be too delicate for items like rings that have a higher risk of breakage and require special care. 

By experimenting with these diamond alternatives and considering each gemstone's unique properties, you can create captivating, one-of-a-kind pieces. In your pursuit of creating your next exceptional jewelry collection, finding the right manufacturing partner is crucial. MJJ Brilliant is here to offer you the expertise, craftsmanship, and dedication needed to bring your visions to life. With our commitment to quality, attention to detail, and over four decades of experience in the industry, we're excited to collaborate with you as your trusted manufacturing partner. Contact MJJ Brilliant today to elevate your jewelry business to new heights.