As a jewelry designer, it can be challenging to keep up with current jewelry trends and incorporate them into your collections. With so many styles and designs emerging every year, it's easy to get lost in the vast sea of possibilities. However, keeping up with the latest jewelry trends is essential to ensure that your collections remain relevant and fashionable. Including just a small element from each trend into your jewelry can go a long way. In this article, we'll explore fourteen current jewelry trends to inspire your next collection.
#1: Chunky Chains
Chunky chains are back in a big way, and they're bigger and bolder than ever before. They're perfect for creating statement necklaces or bracelets that add an edgy touch to any outfit. Create gold or silver chain bracelets, necklaces, or rings in all different sizes so your customers can layer them for a more dramatic effect.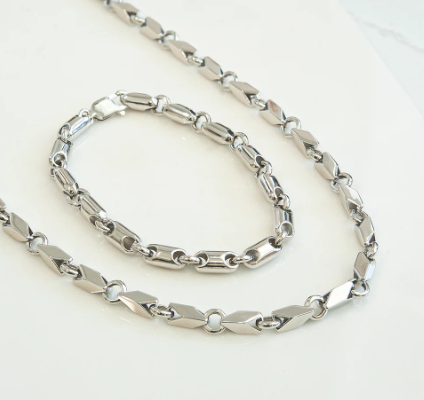 #2: Pearls
Pearls have always been a classic choice for jewelry, but they're making a big comeback this year. From dainty earrings to statement necklaces, you can incorporate pearls into any piece of jewelry. Consider using them in unique ways, such as mixing them with other materials like leather or adding them to hoops for a modern twist.
#3: Rainbow Jewelry
Multicolored and bright jewelry have been gaining popularity in recent years, and the trend isn't slowing down in 2023. Rainbow jewelry is all about incorporating a spectrum of colors into your designs, whether it's through gemstones, enamel, or beads. It's a fun way to help your audience add a pop of color to any outfit.
#4: Chain Link Earrings
Chain link earrings are a fresh take on the classic hoop earring. They're modern, edgy, and pair well with almost any outfit, making them a popular choice for consumers. Create simple designs with clean lines, or go for something more elaborate with added details like pearls or gemstones.
#5: Layered Necklaces
Layering necklaces has been a trend for a few years now, and it's still going strong. It's all about mixing and matching different lengths, styles, and materials to create a compelling ensemble. Look for ways to offer combinations of delicate chains, chokers, and longer statement necklaces that will inspire your customers to achieve the layered look.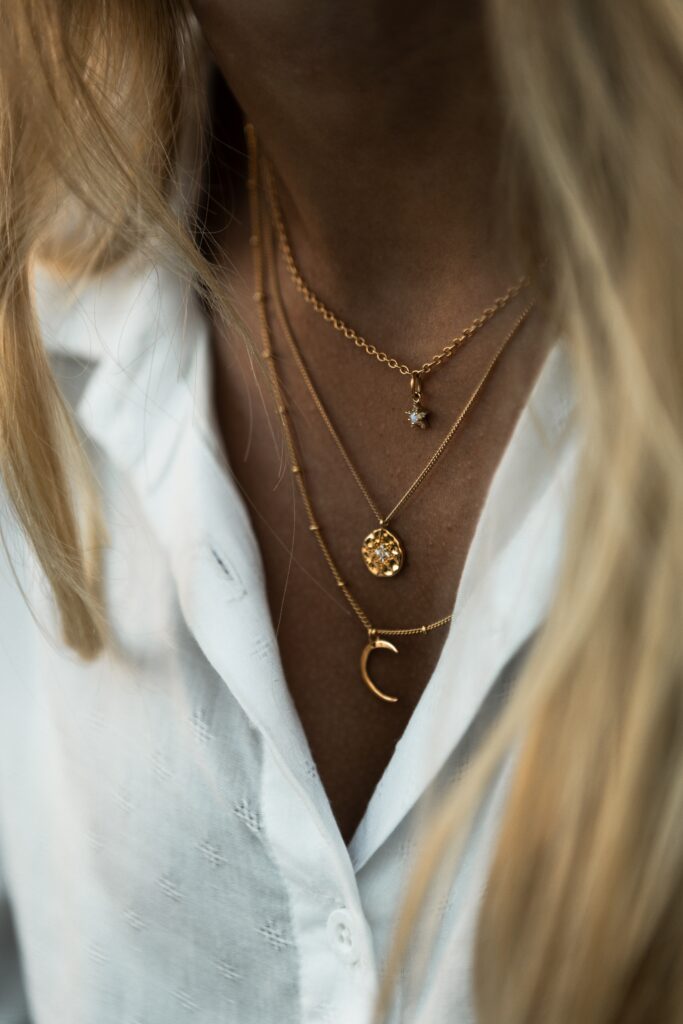 #6: Organic Shapes
Organic shapes are all about embracing imperfection and celebrating raw, natural forms. Cabochon cut gems are a great example of organic shapes — they feel less manufactured and processed, which is very on trend. From irregularly shaped gemstones to asymmetrical designs, this trend is a perfect way to make your jewelry feel more grounded.
#7: Hoop Earrings
Hoop earrings are a classic style that's never really gone out of fashion. This year, they're making waves in all shapes and sizes. You can offer large, statement-making hoops, delicate minimalist styles, or something in between. Try starting with the classic hoop as inspiration for a new take; design hoops with charm adornments, metal hoops braided with other materials, or colorful hoops featuring elaborate enamel designs.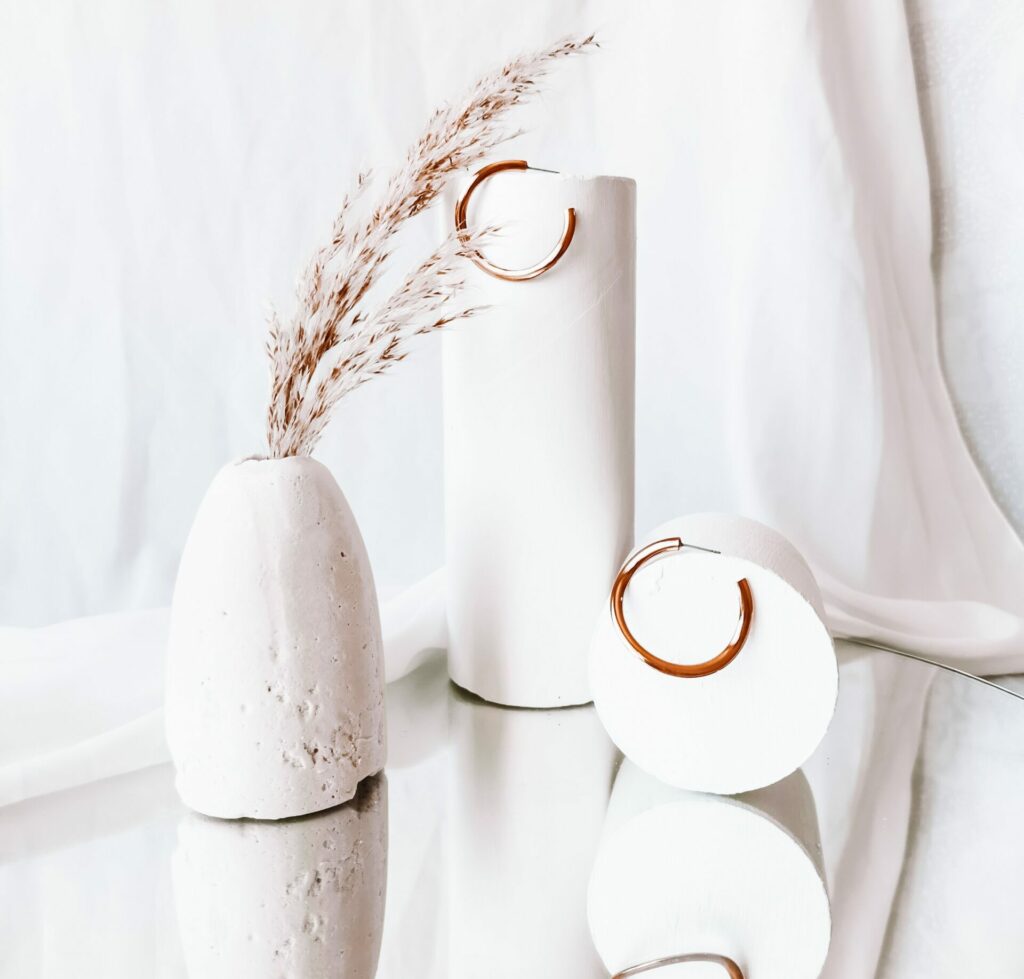 #8: Mixed Metals
Gone are the days of perfectly matching all the metals in an ensemble. Mixed metal jewelry is all the rage this year, so mixing silver and gold or rose gold and copper can be a great way to include some visual interest to your pieces. Designing a single piece that incorporates multiple metals is an easy way to add some dimension and texture to your designs and help your customers get the mixed metal look.
#9: Statement Earrings
Statement earrings are all about channeling bold energy. From shoulder-drop earrings to asymmetrical styles, jewelry fans love making earrings the focal point of an outfit to elevate a look. Now's the time to create outrageous, jaw-dropping designs that your customers will want to plan their entire outfit around.
#10: Cuff Bracelets
Cuff bracelets are another trend that has been gaining popularity in recent years. These bracelets come in a variety of styles and materials and are designed to fit snugly around the wrist (or anywhere up the forearm). They can be simple and understated or embellished with gemstones and intricate designs — consider your cuff bracelets a canvas for creativity.
#11: Permanent Jewelry
Before you panic, it's not as scary as it sounds (and it's not fully permanent). Permanent jewelry is a type of jewelry that doesn't require a clasp. This service has become increasingly popular in recent years, so offering it to your customers is a great way to introduce some novelty to your product line. Provide permanent bracelets, anklets, or necklaces in delicate chains that match with anything; it's as simple as a two-minute soldering service. 
#12: Pinky Rings
Pinky rings are a classic jewelry trend that has made a comeback in recent years. These rings are designed to be worn on the pinky finger and come in a variety of styles, from simple and understated to bold and intricate. Anything from a colorful, tiny gemstone to an engraved signet ring can make an elegant addition to any outfit, so consider the looks your specific audience is channeling this year and start there. 
#13: Personalized Jewelry
Personalized jewelry is all the rage this year, ranging from nameplate necklaces to custom engravings. As a jewelry designer, you can incorporate personalized touches into your designs to create pieces that are both meaningful and stylish. Offering customizations can make your customers feel included in the design process and encourage them to feel personally invested in their new piece of jewelry.
#14: Playful Charms
Chunky and playful charms are a fun trend that consumers are loving this year. Charms can come in a variety of shapes and sizes and can be used to decorate bracelets, necklaces, and even earrings. They are a great way to help your customers express their personality or their mood, so offering a variety of charm options will add an element of fun to your next collection.

Use these current jewelry trends to inspire your next collection and keep your designs modern and relevant in 2023. Whether you opt for chunky chains or organic shapes, incorporating these trends into your jewelry can help you stand out in a crowded market. Remember to stay true to your brand style and have fun experimenting. Ready to make your next dream jewelry collection a reality? Partnering with MJJ Brilliant gives you access to a team of experts boasting over forty years of experience helping brands keep up with (and get ahead of) the latest trends. Contact us today to get started.